The Laughing Cow
Spread More Smiles With
Deliciously Convenient Snacks
Discover the wholesome, creamy goodness of The Laughing Cow® Cheese and capture incremental sales through impulse snack purchases. Our spreadable cheese wedges come individually wrapped for safer snacking and can be served alone or with crackers, pretzels, and vegetables. Guests of all ages will delight in our perfectly portioned and portable options for on-the-go snacking throughout the day.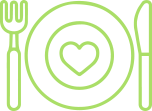 Over 50%
of Consumers
have eaten cheese within the past day1 and 83% snack on a daily basis.2
1Datassential SNAP! Keynote Cheese & Dairy, 2020
2Technomic Snacking Occasion Consumer Trend Report.
The Bel
Solution
Consumers are seeking cheese-centric foods in snackable foodservice formats, and The Laughing Cow truly delivers on patron demand. Our wide selection of individually portioned snacks brings menu versatility and low-labor solutions to your establishment while satisfying consumer desire for deliciously goodness cheese.
Add a wedge of The Laughing Cow Original to grapes and rice crackers for a satisfying snack on-the-go.
Bring a global flair to snacking by smearing The Laughing Cow Creamy Spicy Pepper Jack Wedges onto fried potato slices and top with corn salsa.
Spread The Laughing Cow Creamy Light on raisin bread and top with fresh strawberries for a delicious twist on breakfast.
The Laughing Cow
Product Lineup
The Laughing Cow Cheese Wedges
Guaranteed Shelf Life: 100
| ITEM# | ITEM name | | unit size | |
| --- | --- | --- | --- | --- |
| 450156 | 6 OZ THE LAUGHING COW CREAMY WHITE CHEDDAR SNACK CHEESE WEDGES | | 6 OZ | View More |
| 450157 | 6 OZ THE LAUGHING COW CREAMY ASIAGO SNACK CHEESE WEDGES | | 6 OZ | View More |
| 450158 | 6 OZ THE LAUGHING COW CREAMY SPICY PEPPERJACK SNACK CHEESE WEDGES | | 6 OZ | View More |
| 450195 | 6 OZ THE LAUGHING COW CREAMY SWISS ORIGINAL SNACK CHEESE WEDGES | | 6 OZ | View More |
| 453151 | 12 OZ THE LAUGHING COW CREAMY SWISS ORIGINAL SNACK CHEESE WEDGES 16P | | 12 OZ | View More |
| 449992 | 6 OZ THE LAUGHING COW CREAMY SWISS LIGHT SNACK CHEESE WEDGES | | 6 OZ | View More |
| 459684 | 12 OZ THE LAUGHING COW CREAMY SWISS LIGHT SNACK CHEESE WEDGES 16P | | 12 OZ | View More |
| 450159 | 6 OZ THE LAUGHING COW CREAMY GARLIC AND HERB SNACK CHEESE WEDGES | | 6 OZ | View More |
| 451004 | 6 OZ THE LAUGHING COW CREAMY AGED CHEDDAR BACON SNACK CHEESE WEDGES | | 6 OZ | View More |