Kaukauna
Add Award-Winning Flavor
To Your Menu
A Wisconsin tradition since 1918, Kaukauna® Spreadable Cheese has brought enjoyable eating experiences beyond the dairy state's borders. With its rich history and signature cold pack process, it has become one of today's most popular spreadable cheese brands. Only the highest quality aged cheddar makes it into every batch of our award-winning Kaukauna Spreadable Cheeses. Our bulk pails and tubs are perfect for high-volume recipe preparation in foodservice operations. And chefs will love the made-from-scratch appeal of our Kaukauna Deli Cheese Balls – balancing crunchy and velvety textures that blend well in recipes or can be enjoyed with a side of crusty bread and crackers.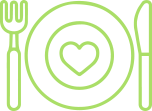 60%
of operators
believe adding cheese to a menu item helps it sell better.1
1 Datassential SNAP! Keynote: Cheese & Dairy, 2020
The Bel
Solution
Leverage the popularity of cheese and America's preferred spreadable cheese brand and spread on a variety of sandwiches, wraps, and burgers. Or mix in signature sauces, creams, and house-made dips to entice orders whether onsite, online or on-the-go.
Bring out the bold in meatball sliders by mixing in Kaukauna® Sharp Cheddar Cheese and finishing off by topping with white barbecue sauce for a signature twist on a popular appetizer.
Craft a Southwest breakfast wrap by spreading a hearty layer of Kaukauna Cheddar Cheese to the tortilla before adding scrambled eggs, diced peppers and onions, and chorizo.
Kaukauna Deli Cheese Balls bring craveable flavor and ease to shareable cheese platters. Add an assortment of crusty breads, crunchy crackers and dippable veggies for a hearty menu item sure to please the masses.
Breakfast, lunch, and dinner Kaukauna inspired recipes.